RESTAURANTS WITH 1 MICHELIN STAR MILAN AALTO*
Piazza Alvar Aalto / Viale della Liberazione 15, Milan
AALTO's "Free Kitchen" was one of the Michelin Guide Italy 2021 starred novelties and the result of the intuition of Chinese entrepreneur Claudio Liu, the former head of the starred IYO restaurant (the first Japanese restaurant to receive a star in Italy). A young entrepreneur (born 1982) with "an almost religious fascination with Japanese cuisine and its cult of raw materials". This philosophy is brought to life by Chef Takeshi Iwai, born in 1978, who worked for four years with Toru Hayashi, Ambassador of Italian Cuisine to Japan. It is a "loose" interpretation of cuisine that tries to free itself from cultural, stylistic and geographical boundaries, as well as from definitions that can trap it.
Prices: Tasting menu 135 and 150 euros. Information: 02 250 62 888 | www.aalto-restaurant.com | open Monday, Wednesday, Thursday and Friday for dinner; Saturday and Sunday for lunch and dinner.
Contrast Milano*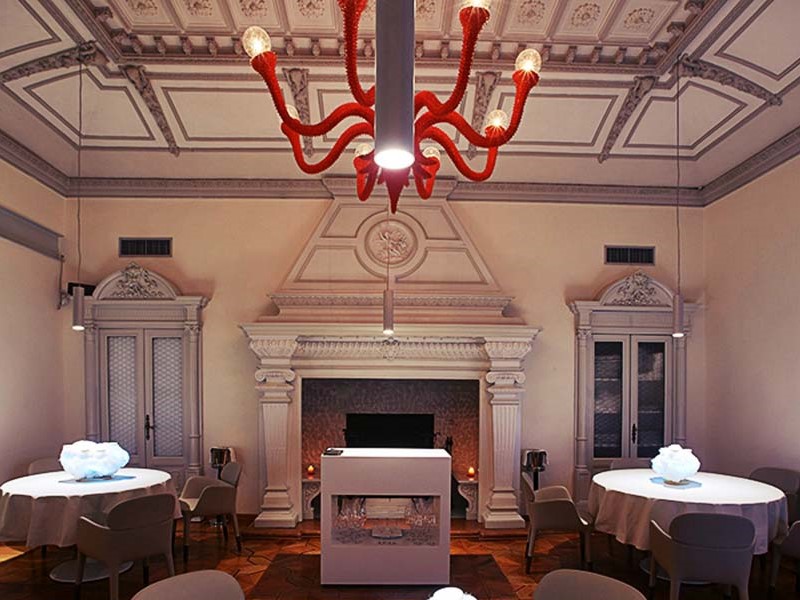 via Giuseppe Meda 2, Milan
For lovers of creative restaurants, Contraste is always about the safety of choice. A young team led by Chef Matthias Perdomo knows how to give great pleasure to those who want to be surprised, with a cuisine that is not afraid to use ingredients that are not very easy for customers. Contraste's manifesto revolves around creating an unexpected and wow-factor show experience where nothing is what it seems, where shapes and materials are in constant playful tension, and amazement and wonder are renewed with every step of the waiter. His proposals are often designed to surprise. They allow us to see the desire to educate those who decide to dine with him, accompanying each time by the hand in a very personal kitchen. For example, choosing to eliminate the a la carte menu entirely, leaving the chef in full control of the offering, goes in that direction.
Prices: tasting menu 120 euros and 150 euros.
Cracco*
Galleria Victor Emanuele II, Milan
Carlo Cracco remains Carlo Cracco, and his restaurant remains one of the most requested restaurants in Milan, both by gourmets who can't help but experience the chef's great journey in modern Italian cuisine, and by fans who have fallen in love with this restaurant. Carlo Cracco, regardless of the number of stars, which may one day return to two, remains a restaurant of ancient elegance, with a menu that offers all the dishes that made the chef famous, such as fried egg yolk and Milanese dishes, such as rice. with saffron.
Prices: Tasting menu 220 euros
Innocenti Evasioni*
Via Privata della Bindellina, Milan
Chef Tommaso Arrigoni's cuisine is a clear homage to the city of Milan and a clear Lombard culinary tradition, but one always wants to raise the bar a little further, with delicacy and balance, but also with a good dose of creativity. This is how dishes such as Cassoeula di mare or Mischiato Potente di Gragnano are born, with legumes, octopus and its broth seasoned with tarragon and pink pepper. Otherwise, there is a certain classicism to the menu, a symbol of safety in hand and intent, with dishes that never go out of their way and always put exquisite ingredients at the center of the dish. The value for money is, after all, really remarkable, especially considering that we are based in Milan.
Prices: Tasting menu 73 and 95 euros.
Iyo*
Via Piero della Francesca 74, Milan
Since 2015, Iyo has been the only modern Japanese restaurant with a Michelin star Milan in Italy, in the city that brought the sushi trend to the forefront in our country in the first place. The menu of Giampiero Brotzu, Nuorese Chef, former Sous Chef Carlo Cracco, offers a cuisine that goes beyond the fusion of Eastern and Western traditions and is a school in itself, inventing dishes such as tuna sashimi marinated in soy sauce, yamakake di stracciatella pulese. DOP, nori seaweed and fresh wasabi or soft egg breaded in panko sauce, umadasi, gindara marinated in miso and pak choi. The sake card accompanies the wine list to bring the experience as close to the rising sun as possible.
Prices: Tasting menu 125 euros.
Information: 02 4547 6898 | www.iyo.it | closed Monday and Tuesday for lunch.
Felix Lo Basso home & restaurant*
Via Carlo Goldoni 36, Milan
Felix Lo Basso is back, the famous name of Milanese cuisine, and immediately Michelin Milan rewarded him again. After his experiences first in the Lombard capital and then in Trani, Lo Basso returns to where he started with a restaurant symbolized by the gorilla, an animal that is "sensitive, intelligent and undeniably strong.
But, despite its size and imposing appearance, it is a peaceful and calm animal." The new Felix Lo Basso Home & Restaurant concept breaks down the barriers between guest and chef by offering just twelve counter seating around the kitchen work area, which thus becomes a stage. Or you can eat in a separate room for ten people. A tasting menu in 12 "acts" that changes every day based on the inspiration of the chef.
Prices: Tasting menu 170 euros.
Joia*
Via Panfilo Castaldi 18, Milan
Although the vegetable philosophy is now spreading all over the world, even in haute cuisine, Pietro Limanna's Joia is still unique in Italy. The only stellar vegetarian restaurant in Italy (and the first in Europe, in 1996), Joia has always served beautiful, colorful, elegant dishes with a vaguely Zen soul and spirit. On the other hand, what the chef put on the plate is a holistic vision, the purpose of which is to connect the body, mind and spirit and always send a positive message. Leeman, with his gentle and calm manner, is the perfect embodiment of this idea of ​​"vegetarian haute cuisine", delicate, creative, respectful of the products.
L'Alchimia*
Viale Premuda 34, Milan
The young Milanese star (he was featured in the Michelin Guide 2020, just over a year after he opened) is the symbol of a modern restaurant made up of ideas, projects and teamwork. The team consists of Alberto Tasinato, Giuseppe Postorino, Valerio Trentani and Hilario Perro, patron, chef, director and sommelier of the restaurant respectively. The restaurant, which is also a long bar and has a warm and inviting feel, with exposed brick vaults, offers seemingly simple cuisine made with marine and land ingredients, prepared with an original approach (as in the case of raw amberjack with culatello, peanut cream and tomato confit or Gray rabbit from Carmagnola alla Wellington, stewed escarole and smoked red pepper ketchup).
Ristorante Berton*
Via Mike Bongiorno 13, Milan
Chef Andrea Burton trained with Gualtiero Marchesi's brigade on Via Bonvesin de la Riva, then again at the Pinciorri Enoteca and Florence, and finally at Louis XV in Monte Carlo under Alain Ducasse. A curriculum that inspires great confidence in a Milanese restaurant, with cuisine that speaks well, of land, sea or fresh water: the important thing is that they are treated creatively, substantial but reassuringly, with dishes designed to enhance the main ingredient . A down-to-earth proposal that is easy to understand despite interesting creative outbursts. Great courage to propose a tasting route entirely based on broth, presented as a sublimation of the taste of each individual dish, very interesting and valuable.
Prices: tasting menu 140 and 145 euros; two dishes to choose from the menu 95 euros; three courses 130 euros.
Ristorante Sadler*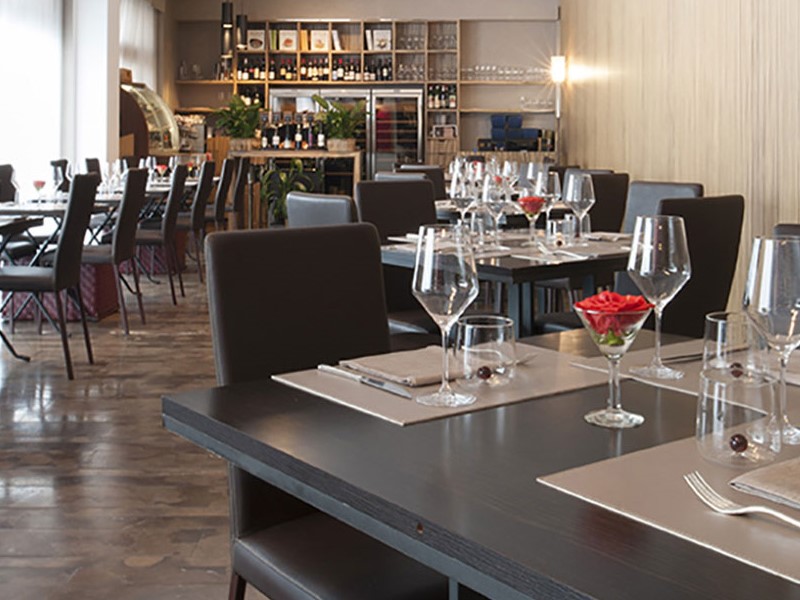 via Cardinale Ascanio Sforza 77, Milan
"Modern cuisine in evolution": this is the philosophy of Chef Claudio Sadler, who wants to bring a "tribute to renewal" with his menu. His offering includes traditional ingredients and preparations (such as cotechino ravioli and lentils with 24-month-old Grana Padano broth and sauerkraut), but everything is deliberately modern, as can be seen from the restaurant's décor, which features works by contemporary artists on all walls. His catering project also features "chic'n quick", a contemporary trattoria with quick offerings ranging from traditional to contemporary.
Prices: tasting menu 120 and 130 euros.
Tano Passami l'Olio*
via Petrarch 4, Milan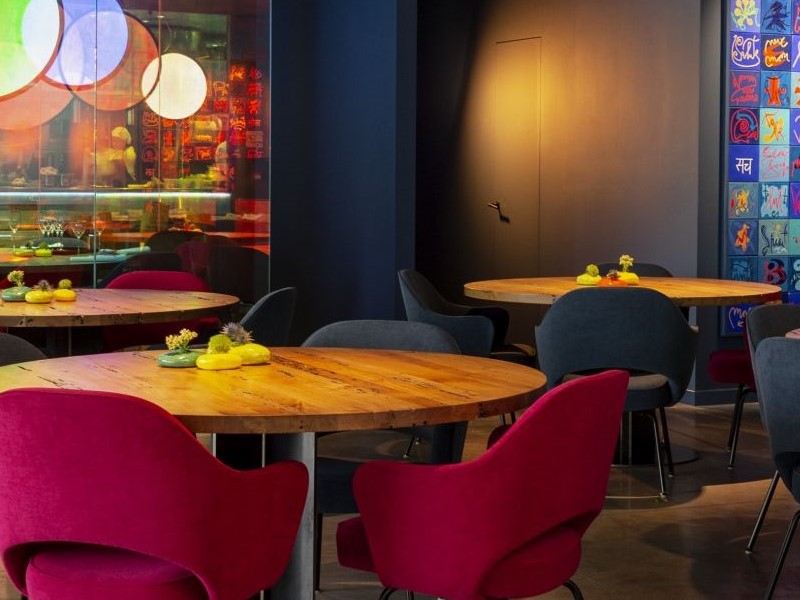 Despite dubious protests in defense of the restaurant, as well as IoApro protests from chef Tano Simonato, his restaurant has not been attacked by the Red Guide, who generally does not like headshots or overly loud statements. Here we have always eaten the cuisine, which is guided by the principle of replacing butter with extra virgin olive oil (which is also evident from the name of the restaurant) in order to "preserve the integrity of the products as much as possible." There is something classic in the offerings with a touch of modernity, as are the two halls of the restaurant, which offer a beautiful view of the courtyard.
Prices: tasting menu 110, 120, 130 and 140 euros.