16 Michelin restaurants in Milan and its province, awarded with stars in 2022, are ready to welcome guests. We have prepared a complete list of establishments, prices, tasting menu and what you need to know before visiting.
The list of Michelin Milan restaurants in 2022 will not change much. Milan currently has 16 Michelin-starred restaurants: one three-star, three two-star and twelve one-star.
3-STAR MICHELIN RESTAURANTS MILAN
Enrico Bartolini al Mudec***
via Tortona 56, Milan

Enrico Bartolini is certainly one of the landmarks for haute cuisine: with his 8 stars, out of 6 local establishments, he continues to be "the most stellar chef in Italy" and has shown how interesting it is to run a profitable business. The man who gave Milan three Michelin stars back leaves nothing to chance and flaunts a confidence that doesn't always make him cute, but certainly creates an image of authority. His restaurant on the third floor of the Museum of Cultures, in the heart of Milan's design district, is definitely the best place to experience his creative and contemporary cuisine.
On the menu, everything is reduced to the classics, but always with a great creative and sometimes romantic touch, with a clear feeling that the desire is to improve the source materials as much as possible by combining them with each other.
Prices: tasting menu 180, 275 and 300 euros.
MICHELIN 2 STAR RESTAURANTS MILAN
D'O**
via Magenta 18, Cornaredo (MI)
"We are chefs, let's put it in our heads. Our task is to feed as well as possible," says Davide Oldani. Feed and earn two Michelin stars in Milan thanks to the coup that marked the release of the 2021 Michelin Guide. Oldani managed to really convince everyone with her "pop cuisine", which over the years has become a designer brand, as well as a winning gastronomic philosophy. Proof of the success of his project even before the second Michelin star is his famous caramelized onion and his lunch menu: products, quality, affordable prices and a success that even Harvard studied.
Prices: from 40 to 100 euros
Il Luogo di Aimo e Nadia**
via Privata Raimondo Montecuccoli 6, Milan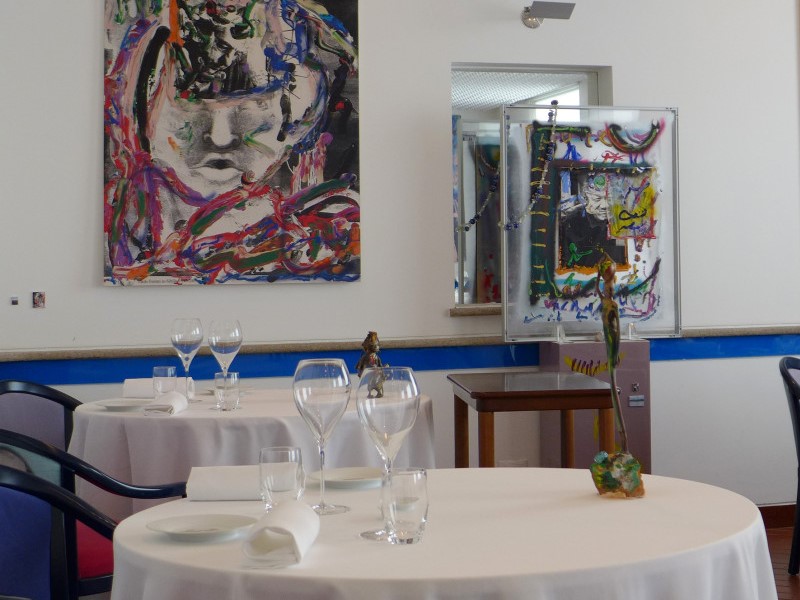 The modern history of Lombard haute cuisine must take the leap from Aimo e Nadi Square, a place that remains as solid and traditional as it once was. And it remains so even today, when chefs Alessandro Negrini and Fabio Pisani took the place of the historical owners who gave the restaurant its name. "This place has always had two chefs, two will be chefs in the future," they say. With their guide, the restaurant embodies itself in modernity, starting with restyling the restaurant and creating new recipes, such as a private cooking show that can be ordered in the professional kitchen "Theatre of Tastes". In the kitchen, creativity is always measured by trying to pay homage to tradition, with dishes worth a trip to Milan in and of themselves. For example, Pacchero with an oxtail in Barolo and Polignano potatoes or La vitella Fassona di Montagna and its fifth quarter. All this with a clear desire to firmly continue the path begun sixty years ago, which made this restaurant a historic address in Milan.
Seta**
Via Monte di Pieta 18, Milan
Seta Antonio Guida is probably one of the chicest restaurants in Milan, able to attract locals and tourists alike with its combination of design and great food. An address that is always in fashion, but also a place of high class: it could not be otherwise for the very place in which it is located, in the courtyard of the Mandarin Oriental in Milan. The atmosphere is vaguely British and overtly formal, and there is the option to dine at the chef's table for two located in the kitchen. As is typical for a gourmet restaurant, the offering is a menu with Mediterranean flavors (the chef brings with him the culinary influences of southern Italy where he hails from) that doesn't shy away from exotic and oriental indulgences such as green shrimp with mussels and grapefruit with soy. . Special thanks for the desserts from the pastry chef of the restaurant.
Prices: tasting menu 190, 210 and 270 euros; three-course lunch menu 90 euros.