I continue my stories about Italy with an article about San Marino, a small state surrounded on all sides by Italian lands.
REPUBLIC OF SAN MARINO
the so-called "state within a state". It has its own head of the country, its own administrative division. And there is even a government-issued euro currency. By the way, the Italians, when they see the San Marino euro, are very surprised and happy, like children who see an unknown animal. This mini-state is located 25 km from Rimini – the beach Mecca of Italy. So you can visit here by coming to an unforgettable beach holiday on the Italian Riviera. San Marino is slightly larger than the Vatican and Monaco. Despite this, it even has its own army and football team. Although, walking around this city, you can hardly imagine where so many people gathered for such serious events. Becoming a citizen of San Marino is quite difficult: you have to be born in it. Or live in it for at least 15 years in a legal marriage with a citizen of San Marino.
San Marino fascinates the visitor from the first seconds of being there. You plunge into an incredible fairy tale, where kind people are present, a magical castle on a mountain, the romance of a night city and unforgettable adventures in the daytime. The city stands on Mount Titano (Monte Titano in Italian) and is often completely enveloped in clouds, which makes it seem that the city is covered in fog. This feature only adds additional mystery to this ancient place.

What can you see in San Marino?
Fortresses of Guaita, Chesta and Montale
Everyone should visit three medieval fortresses: Guaita, Chesta and Montale. They are located on top of Mount Titano and fit perfectly into nature. The first tower – Guaita, is easy to get to, the second tower – Chesta – is more difficult to access for sightseeing lovers, the third is closed for viewing. Despite this, it is these fortresses that are the pride and value of San Marino. Their image is minted on local euro coins.
Freedom Square
Maybe she herself, like the whole state, is not large, while the view that opens from there, you will not be able to forget!
Basilica of San Marino
Was the basilica listed as a UNESCO World Heritage Site? This building impresses with its laconic beauty.
Evening San Marino
The main advice that can be given is to visit this city at night. It is at night, when the crowds of tourists disappear, shops and taverns close, the streets empty and people fall asleep, that the city opens from a new side. Fortresses become like those very castles, fairy tales about which we were told in childhood and about which we now tell. The streets are illuminated only by the light of the moon and rare lanterns, fountains begin to glow in different colors, and lovers hide in secluded romantic corners. And what a view of the whole of Italy! Such a spectacle cannot be described in words, it must simply be seen.
Yards of San Marino
Walking along the ancient streets paved with marble, you are surprised that people live here. It seems that you got to the shooting of a film about the Middle Ages, and suddenly you see a standing clothes dryer, put up on an old pavement or a children's bicycle.
Local restaurants
And, of course, you can't ignore the local restaurants that spoil visitors with a variety of dishes, most often Italian cuisine.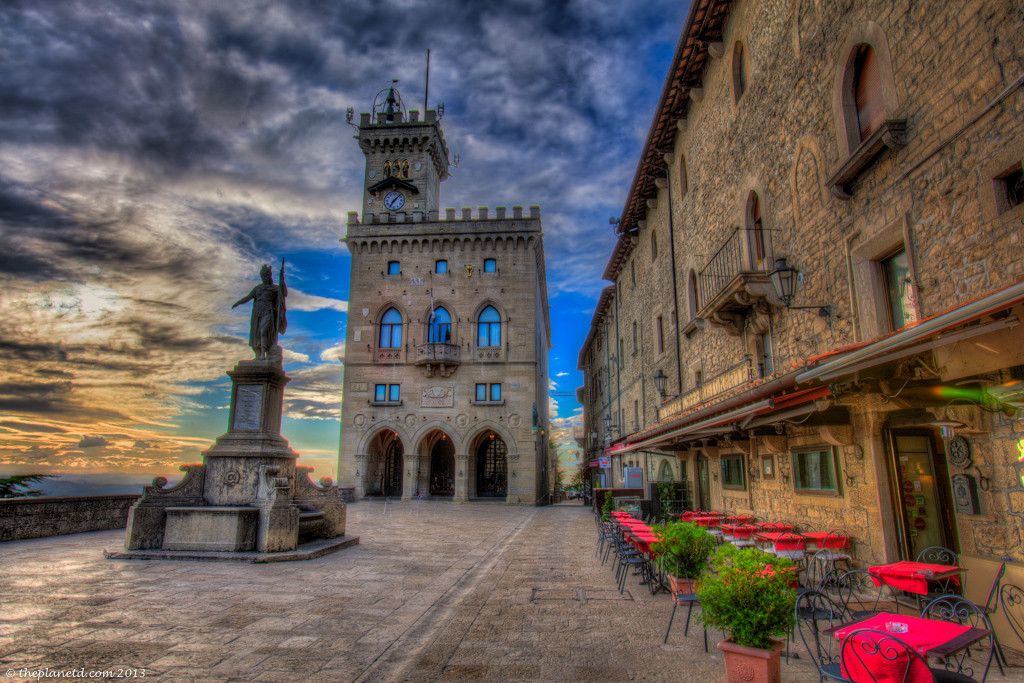 Interesting Facts:
1. There are few places for traffic in the city, there are several paid parking lots. Enforcement of parking rules is closely monitored here, so I recommend leaving the car only in a specially designated place. In the photo below you can see the entrance to one of these paid parking lots, it is located behind a zebra with the sign Stop. The parking lot itself is multi-level, and is located inside the mountain. I am writing about this because at one time a lot of time was spent looking for this very parking lot with a map in hand and a navigator. You can see better from above than on a flat surface.
2. The city has tax benefits, so now it is one big tax-free store where you can buy goods of famous Italian brands much cheaper than in Italy itself. For example, leather goods: shoes, bags, wallets. There are many immigrants from the CIS countries in the city who invite visitors to go to the shops in Russian.
I want to say that this small town delighted me with the coziness that is supported by the antiquity of everything that surrounds you. Local residents look active, calm and very satisfied with life. There is no rush here, and at the same time the city is alive, you want to stay in it longer.
I wish you all many great trips and be sure to visit San Marino!